Good plan news Sale: the gaming desktop PC with RTX 3060 and i5 11500 on sale
Published on 07/06/2021 5:19 PM
Thinking of renewing your central unit, or just buying a brand new one for the first time? The summer sales therefore seem particularly adequate: Grosbill offers here a "NUNCHAKU" gaming PC adapted to your video game needs, with a reduction in price.
It's no secret: to enjoy video games as they should, especially on a PC, you often have to put your hand in your wallet to acquire a beast worthy of the name. However, certain annual events make it possible to limit the financial breakdown, like the summer sales which in 2021 offer very nice offers. Here, this tower dedicated to gaming and called "NUNCHAKU" is offered to 1399 € instead of 1499 € on Grosbill, either 100 € reduction.
Find the Nunchaku gaming PC with RTX 3060 at € 1,399 on Grosbill
A GeForce RTX 3060 Gaming for this "Nunchaku" PC
This "Nunchaku" PC is therefore a computer proposed by Grosbill who, for the occasion, imagined and assembled the tower by itself. It is therefore a custom-made central unit, designed for video games: it thus incorporates a latest generation processor. Intel Core i5-11500 6-core (4.6 GHz in turbo mode) with 12MB of cache memory. This CPU is very comfortable in gaming.
To go together, we can count on 2 RAM bars of 8 GB DDR4 3200 MHz PNY brand for a total of 16 GB. The very efficient graphics card Nvidia GeForce RTX 3060 Gaming OC 12G, a very aggressive component is also part. The motherboard is also not left out since it is a Gigabyte B560M DS3H.
Note also the presence of a SSD de 500Go M.2 NVMe Gen4, thus, in reinforcement, of another traditional internal hard drive Seagate by 2To.
The Nunchaku Gaming PC, a tower with a sharp design
Obviously, what would a gaming PC be without the provocative design that comes with it? That the amateurs of sobriety pass their turn, the "Nunchaku" proposes here Spirit of Gamer "Deathmatch 3" PC case, topped by three huge front cylinders stuffed with RGB. A sharp elegance, black and red, which is quickly noticed.
Finally, note that a diet Gigabyte ATX 750W 80+ Gold is directly mounted in the machine: the last thing to know, in the end and not the least, is that there is no operating system, leaving you free to install the OS of your choice.
In short, this PC allows you to play absolutely all the games of the moment.
Les specs du PC Gaming "Nunchaku" :
Housing: PC Spirit Of Gamer Deathmatch 3 ARGB
Food : Gigabyte ATX 750W 80+ Gold – P750GM Fully Modular
Processor : Intel Core i5-11500 – 3.0GHz/12Mo/LGA1200/BOX
Motherboard : Gigabyte B560M DS3H – B560/LGA1200/mATX
PC memory: PNY MD16GK2D4320016XRGB RGB (2x8GB DDR4 3200 PC25600)
SSD disk: Gigabyte 500Go M.2 NVMe Gen4 – AORUS GP-AG4500G
Internal hard drive : Seagate 2To 7200tr Serial ATA III – ST2000DM008
Graphic card : RTX 3060 GAMING OC 12G
YOU : Without operating system
Find the Nunchaku gaming PC with RTX 3060 at € 1,399 on Grosbill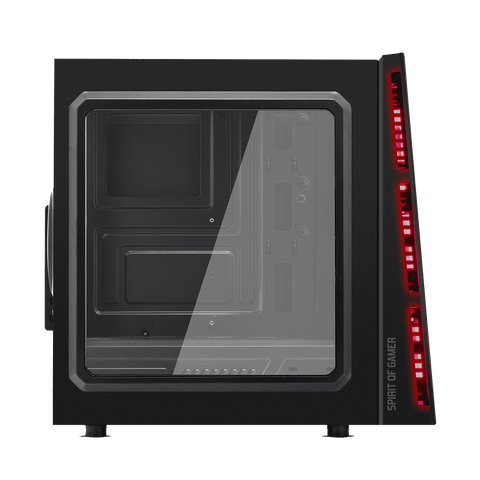 Through Max_Cagnard, Journalist jeuxvideo.com
MPTwitter