In Europe, and despite some difficulties, the Wi-Fi 6E file is moving forward. We learn that the European Union has reserved a spectrum of its own on the 6 GHz band.
Now that a spectrum is dedicated to it, the 6E Wi-Fi network will be able to start making its way in Europe // Source: Pixabay
The thing will have taken a little longer than in the United States, where the FCC opened up 1200 MHz spectrum within the 6 GHz band two years ago, but Wi-Fi 6E will finally start to enter European networks. More restricted than in the United States (480 MHz only), the spectrum opened by the EU on the 6 GHz band will kick off an adoption that was not necessarily won on the old continent.
Unlike existing Wi-Fi standards, limited to the 5 GHz band, Wi-Fi 6E uses 6 GHz to offer transfer speeds sometimes doubled (up to 9.6 Gbps) compared to Wi-Fi 5. Only here , many European countries were already using 6 GHz spectra for various purposes. In France for example, this band was used by microwave links, but is also the CBTC system (communication-based train control) dedicated to railway signaling. To avoid all "overlap»Unfortunate in the frequencies allocated, the European Union had to proceed to their standardization on a European scale. A consultation which is bearing fruit today.
A spectrum factually open to Wi-Fi 6E from December
More specifically, the EU has stated in its official bulletin that the open frequency band for Wi-Fi 6E will stretch from 5,945 MHz to 6,425 MHz, as of December 1, 2021. As stated XDA Developers following information from Wi-Fi Now, however, the EU limits the use of these frequencies only to LPI (Low Power Indoor) and VLP (Very Low Power) devices.
The Wi-Fi Alliance, at the origin of the various Wi-Fi communication standards, welcomed the EU's decision. "This decision will advance Europe's digital connectivity by enabling the deployment of 6E Wi-Fi technologies. The Wi-Fi Alliance is committed to continuing to work with European regulators on the development of the regulatory framework and access to the spectrum necessary to support the expanding Wi-Fi ecosystem", We read in a press release dated June 30.
Although the effects of this measure will not materialize for a few months, the news is good for the end user who will be able to count on a much faster home connection in the short term – at least on Wi-Fi 6 / enabled devices and routers. 6E.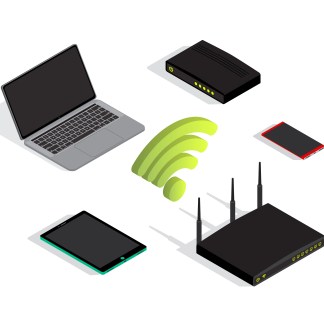 Before the opening of CES 2020, the Wi-Fi Alliance is presenting a new name for its technology: Wi-Fi 6E. His role ? Highlight devices compatible with 6 GHz Wi-Fi.
Read more