Image: Meta
The article can only be displayed with activated JavaScript. Please activate JavaScript in your browser and reload the page.
In 2022, Meta will bring self-sufficient high-end VR glasses onto the market. What do we know about Project Cambria?
The official announcement at Connect 2021 was preceded by a multitude of rumors and leaks. The head of the Reality Labs and soon-to-be meta-technology boss Andrew Bosworth and Mark Zuckerberg himself spoke in spring 2021 that a technically advanced "Quest Pro"Is being worked on.
After a series of leaks that gave a good look at the technology and form factor, Meta officially announced the new device on October 28, 2021. The following video of the Connect Keynote shows the relevant excerpt.
What is the name of Meta's new VR glasses?
So far, Meta has only revealed the code name under which the VR glasses are developed: Project Cambria. The product name should not be announced until it is fully revealed.
Is Cambria the successor to Meta Quest 2?
No. Meta wants one with Cambria completely new VR product line with a high-end focus that is backwards compatible with the Quest ecosystem, but goes beyond these in terms of technical features.
Who and what does Meta want to achieve with Cambria?
With Cambria, Meta wants to test more advanced VR technologies from its own research laboratories on the market. As soon as these are mature and cheaper to manufacture, they could find their way into the next Meta Quest.
The cost-optimized and aggressively priced Quest product line is aimed at the masses and is intended to allow Meta's VR ecosystem to grow as quickly as possible. At Cambria, the goal is different: The more expensive high-end product line is aimed at VR Enthusiast: within and is a Experimentierfeld for new, particularly advanced VR technologies.
What's new about Cambria?
At the announcement, Zuckerberg and Metas, Product Manager for VR Devices Angela Chang, confirmed three new technical features and improvements.
Eye- und Facetracking
New sensors enable a natural Eye contact between avatars and a Real-time transmission of facial expressions to VR. This should make emotions easier to read and social interactions more realistic.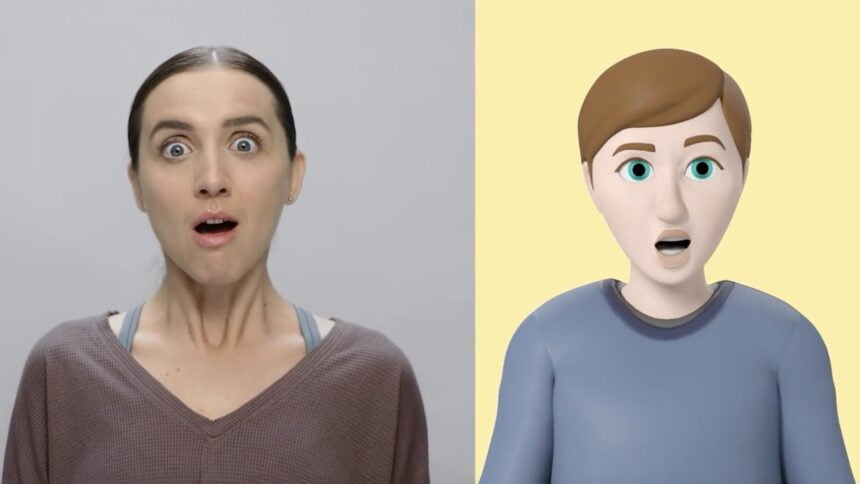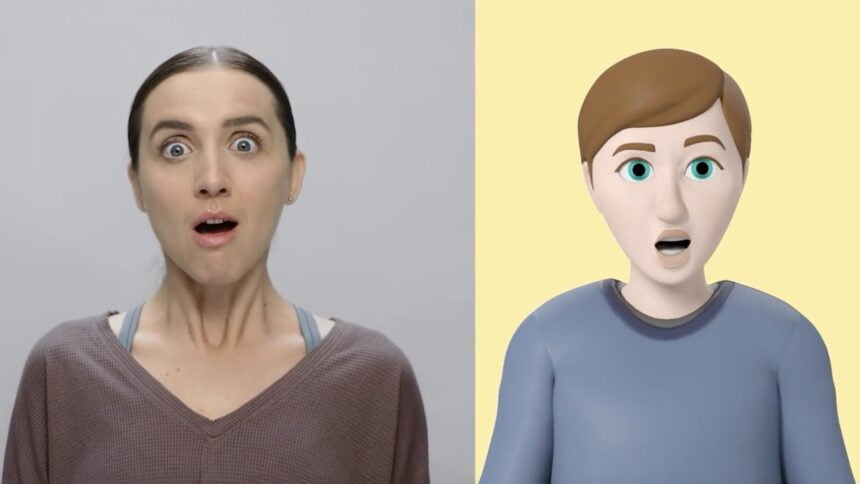 Amazement, surprise, fear: with Cambria, avatars will be able to reflect such feelings. | Image: Meta
High quality mixed reality
Already with Meta Quest 1 & 2 you can use Passthrough-Modus display the physical environment and apps can add digital objects to them. However, the video image of the world is only black and white and so grainy that hardly any details can be made out.
Cambria is set to take pass-through mode to the next level. thanks to high resolution RGB cameras the physical environment is reproduced in color and razor sharp, so that you can take notes with a ballpoint pen or do sports with a virtual personal trainer in the living room (see announcement).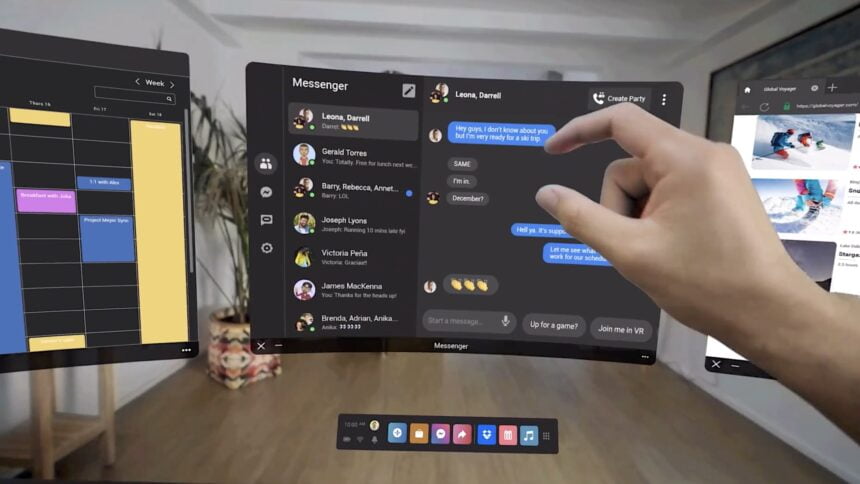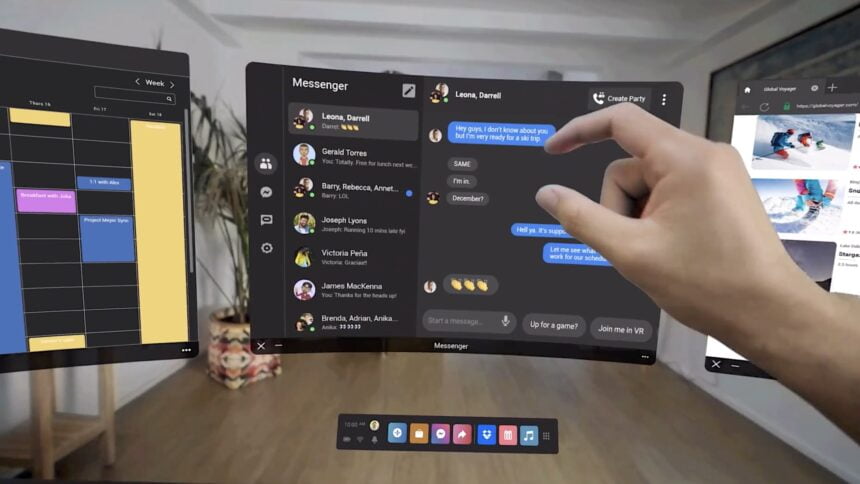 This is what a mixed reality office with Cambria could look like. | Image: Meta
"We're still a long way from being in agreement with how our eyes see the physical world, but we're encouraged by how much we've improved the passthrough experience," said Chang at the announcement.
Improved displays and form factor
Something is also happening in display technology. Cambrias is Meta's first VR headset that features Pancake-Linsen puts. They can be placed close to the display and thus enable a much narrower form factor that goes in the direction of ski goggles instead of shoeboxes. Thanks to the new lenses, Cambria should have a high-quality and artifact-free display and the best optics so far of all Meta brand VR glasses.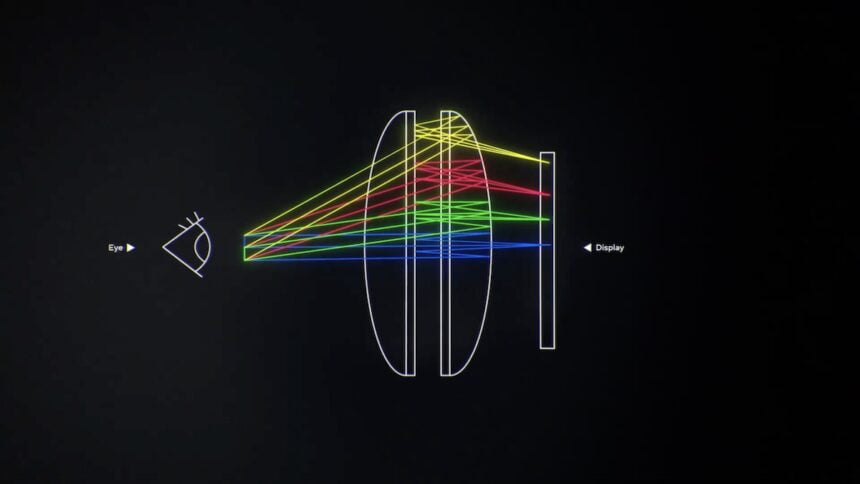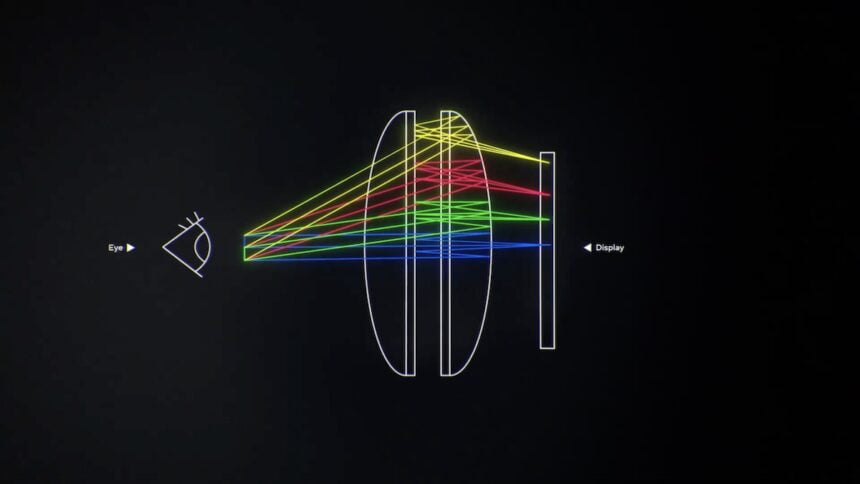 Pancake lenses fold light rays instead of sending them straight through. They enable closer positioning on the display. | Image: Meta
Which display does Cambria use?
Meta has not yet commented on this. According to Leaks, Cambria could either rely on a special LC display that, thanks to dual-cell technology, offers better black levels and the same resolution as Meta Quest 2 (information), or a much higher-resolution Micro-OLED display.
What does Cambria look like?
The official rendering video shows black VR glasses with a Halo headgear and a slim visor.
Leaked video tutorials and firmware snippets confirm the comparatively slim form factor, which could also be associated with a significantly lower weight and better weight distribution, since the battery has recently been housed in the rear part of the head mount.
What kind of VR controllers does Cambria use?
The rendering video of the VR glasses belonging to the announcement shows that Cambria is equipped with new VR controllers without tracking rings comes. Meta has not yet commented on the VR controllers, but according to Leaks, the devices are using new tracking system.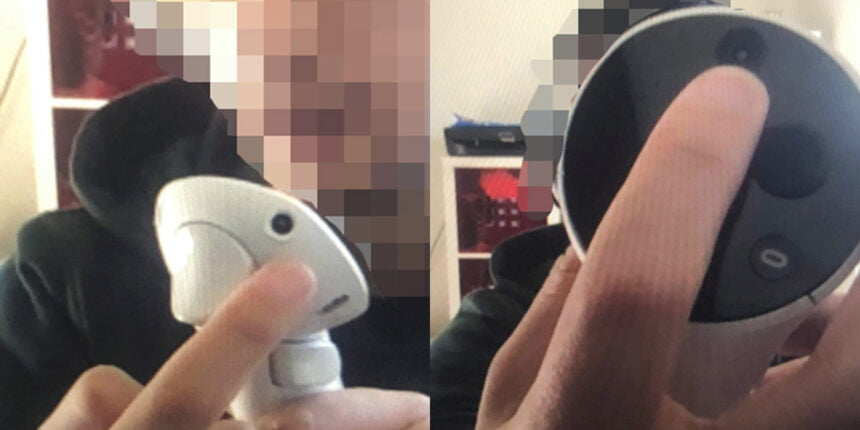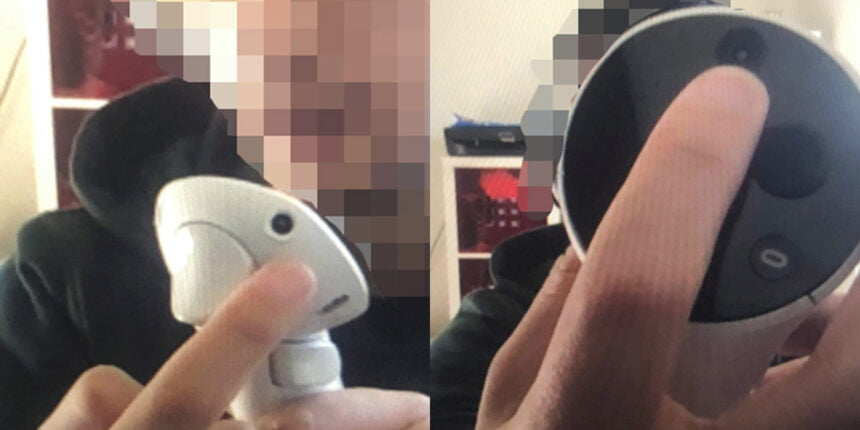 Are these the new VR controllers for Cambria? Integrated cameras on the front and back are easy to see. | Image: Reddit / tx_brandon
With the help of integrated laser projectors, Cambria could throw an invisible infrared pattern into the environment, which is recorded by infrared cameras in the VR controllers. In this way, the devices can also be spatially located if they are behind the VR glasses.
According to a video tutorial leak, the VR controllers will have their own charging station. The reason could be high energy consumption due to the new tracking system.
Does Cambria bring better hand tracking?
The hand tracking of Meta Quest 1 & 2 is anything but mature, which is also due to the fact that no special cameras are installed for optical hand and finger detection.
According to John Carmack, Cambria has not installed any separate sensors for hand tracking. However, he expects it to work more accurately than Meta Quest 1 and 2 because of the high-resolution RGB cameras – albeit not perfectly.
Developers would still have to use tricks to get the most out of hand tracking. A huge leap in quality So you shouldn't expect it.
Do the VR glasses support foveated rendering and artificial focus shifting?
Both technologies are extremely important for virtual reality, but are only likely to be used in future generations of Cambria.
With foveated rendering, the VR glasses determine which area of ​​the field of vision the eye is focusing on and then only calculate this in full detail. This saves a lot of computing power, which can flow into a higher resolution and better graphics.
If the system works sufficiently quickly and precisely, then foveated rendering is invisible to the eye. At least in theory.
In practice, the rendering technique is one hard technical problem to crack. It starts with capturing anatomical differences in pupils and ends with the graphics rendering pipeline, which has to be rewritten for foveated rendering.
According to Andrew Bosworth, Foveated Rendering isn't doing much right now, so the chance that Cambria will support the rendering technique is pretty slim.
The same goes for artificial focus shift. Meta has been researching corresponding displays for many years, which solve a fundamental optical problem of VR glasses and should offer a more realistic and pleasant viewing experience. However, according to the current state of knowledge, there is still a lot of work to be done here.
What is Cambria's most important feature?
Probably the most important feature of the VR glasses is the video-based mixed reality mode. Classic AR glasses with transparent optics (Hololens, Magic Leap, Nreal Light) have hardly developed any further in terms of displays over the past ten years. An extremely narrow field of view, low brightness or poor image quality hold back the technology.
VR glasses with passthrough mode do not have these problems and will be in the years to come be the best way to experience mixed reality. That's why Apple's first VR glasses will also rely on passthrough.
Video-based mixed reality: It should bridge the gap until more advanced AR displays are available that enable a similarly good image quality in the form factor of thin, transparent everyday glasses. You can find out more about the advantages and disadvantages of video-based mixed reality in the following two articles:
Does Cambria have any other surprises in store?
That is possible. Meta has by no means revealed everything about the new VR glasses. Zuckerberg said at the end of the announcement that they wanted to "save some of the good stuff for release next year".
How expensive is Cambria?
Meta has not yet revealed the price. What is certain is that it will be more expensive than Meta Quest 2 (test). When the product was first mentioned in the spring, Zuckerberg said that Cambria will be "a little more expensive" and when it announced in October that VR glasses would be "in the upper price segment".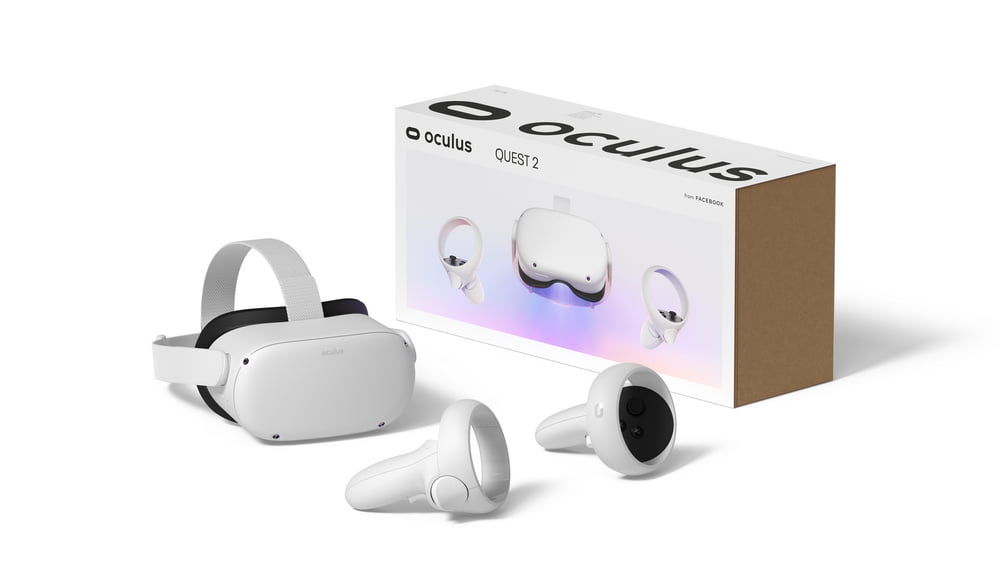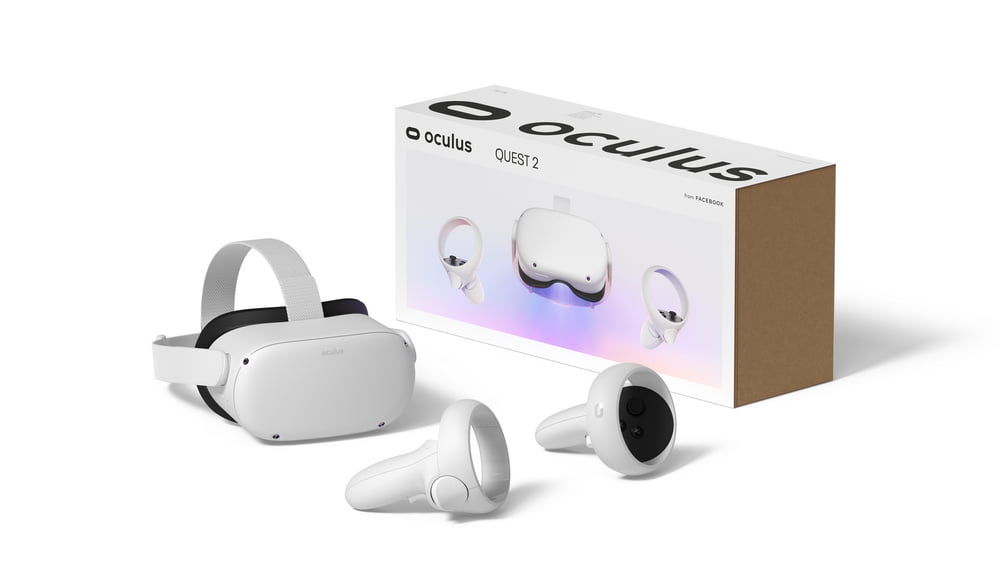 The Meta Quest 2 has an unbeatable price-performance ratio. The more expensive Cambria will be priced more aimed at enthusiasts than at the masses. | Image: Facebook.
John Carmack, in turn, said that the device would be "significantly more expensive", which was partly due to the new lenses. "It will be very interesting to see how the sales will be relative to this," said Carmack in his Connect keynote.
High-end focus or not: Meta should also want to reach as many consumers as possible with Cambria and not just companies and professional users. Even if that means subsidizing your own hardware. A price above $ 1,000 is unlikely.
When does Cambria appear?
Cambria is coming 2022 on the market. A more precise period is not yet known.
Read more about Virtual Reality:
Note: Links to online shops in articles can be so-called affiliate links. If you buy via this link, MIXED.de receives a commission from the provider. For you, the price doesn't change.