A Slovakian store prematurely put Sony's next earphones, the WF-1000XM4, online. The ad indicates a price of 279.90 euros, which corroborates information from WinFuture.
Sony WF-1000XM4 // Source : WinFuture
Sony to launch new headphone market offensive true wireless. After the excellent WF-1000XM3 launched in August 2019, their successors (the WF-1000XM4) seem to be fast approaching given the many leaks about them. HD visuals and characteristics, new information has been on the Internet in recent weeks.
The blunder of a Slovak shop
This pair of wireless headphones would notably have the right to a new processor named Sony V1, which would improve the active noise cancellation function. We should also expect support for LDAC and Hi-Res audio and a battery life of 12 hours without noise reduction, against 8 hours with.
Sony WF-1000XM4 // Source : WinFuture
But what interests us here is indeed its price. WinFuture gave us a first idea by advancing a price of 279 euros. A range that seems to be confirmed little by little. Indeed, the Slovakian Datart store prematurely put the Sony WF-1000XM4 online on its platform.
The 279 euros seem to be confirmed
If the page has since been deleted, the specialized site The Walkman Blog was quick to take a screenshot. Screenshot showing a price in bold: 279.90 euros. Here, the Sony WF-1000XM4 would then directly compete with the Apple AirPods Pro launched in October 2019, because they are sold at the same price.
Obviously, comparisons between the two devices will not be lacking. But it will be especially interesting to oppose the Sony WF-1000XM4 with the AirPods Pro 2, expected during the month of July. However, the latter could position themselves on a higher price segment, new generation requires.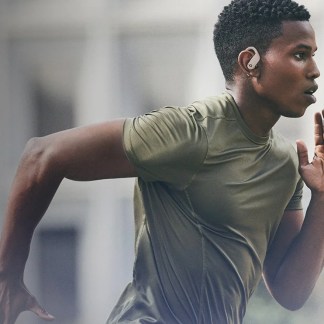 From 30 to 250 euros, what are the best headphones to enjoy your music or podcast while playing sports? Here is our selection for all budgets.
Read more