Asus launches its Rog Strix G15 and G17 Advantage Edition, "100% AMD versions" of their gaming PCs, equipped with a Radeon RX 6800M and a Ryzen 9 5900HX.
Asus is further expanding its range of ROG Strix G15 and G17, announcing "Advantage Edition" versions. Concretely, these are "100% AMD" models, which means that they are equipped with an AMD processor and graphics card.
They are even the first laptops to embed the new graphics chip of the Radeon RX 6000 Mobile series, the Radeon RX 6800M. Based on the RDNA 2 architecture, it supports ray tracing. At its side, Asus has placed the Ryzen 9 5900HX processor, the second most powerful of the brand in 45W, engraved in 7 nm, and having 8 cores and 16 threads.
Stay cool
For the rest of the components, we can count on 32 GB of DDR4-320 RAM, as well as an NVMe SSD of up to 1 TB. The ROG Strix G Advantage Edition also has an additional M.2 slot. Each model will be able to benefit from a full HD 300 Hz screen or a WQHD 165HZ panel in 15 or 17 inches, all equipped with AMD free Sync.
Source : Asus
Source : Asus
In order to keep all this cool, Asus offers a cooling system called: Rog Intelligent Cooling. The thermal paste is replaced by a liquid metal conductor on the CPU and GPU, it also has a large format vapor chamber, two Arc Flow fans. Positioning openings under the keyboard should keep the keyboard cool.
On the software side, we find Armory Crate for the graphics, Aura Sync for the lighting, as well as Dolby Atmos for the sound, which will create virtual 5.1.2 surround sound for stereo headphones. Without headphones, the two Smart Amp speakers can take over.
Fast charge and big battery
Connections are provided: HDMI, Gigabit Ethernet, USB Type-A and USB Type-C DisplayPort compatible on the back, and two other USB ports are available on the left side, as well as an audio jack for the headphones. Wi-Fi 6 completes the connection.
Autonomy is often lacking in gaming PCs. According to the brand, the 90 Wh batteries are expected to provide a lifespan of up to 11.4 hours of video playback. Another advantage in this regard: fast charging saves 50% of the battery in just 33 minutes
The ROG Strix G15 G513 Advantage Edition will start at $ 1,999 and the ROG Strix G17 G713 Advantage Edition will retail for $ 2,299. The release date is yet to be confirmed.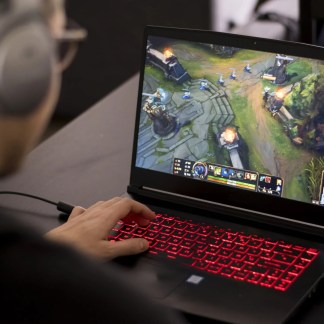 In 2021, to enjoy a gaming PC, it is no longer necessary to deal with a huge computer tower. Laptop gaming PCs are now (almost) as powerful as desktop PCs. From 1000 to …
Read more