The Snapdragon 888+ reveals its power thanks to a benchmark
A new high-end chipset is in the works at Qualcomm. An unknown component was seen in the databases of a famous benchmark. It would be the Snapdragon 888+, overclocked version of the Snapdragon 888 which equips all high-end smartphones from the beginning of 2021. Its arrival would take place in the second half of 2021.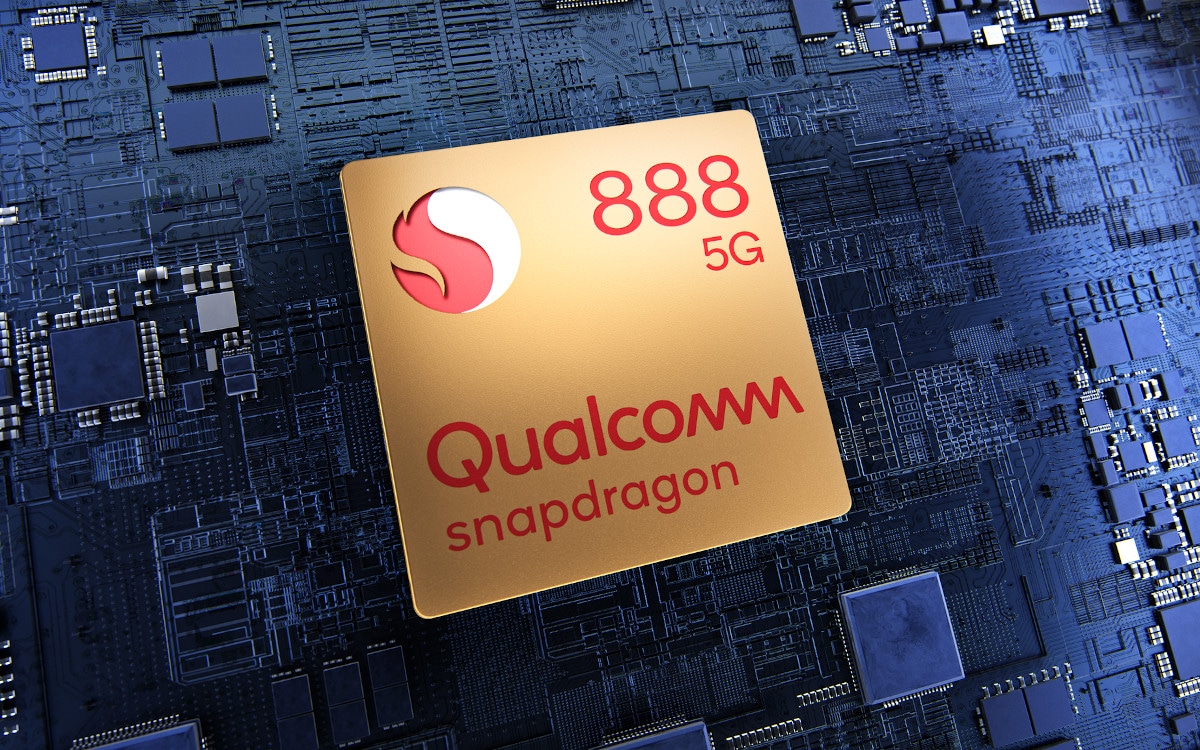 In 2019, smartphone manufacturers had the opportunity, for the first time, to integrate two high-end Qualcomm SoCs. The Snapdragon 855 in the first half. And the Snapdragon 855+ in the second half of the year. The American firm repeated a year later with the Snapdragon 865, available in a "Plus" version a few months later. The ROG Phone 3 was the first smartphone to take advantage of this faster and more powerful version.
Read also – ARM: the next generation of CPU is 30% faster and buries 32-bits a little more
With the release of the Snapdragon 888, we were wondering if Qualcomm would repeat this strategy in 2021. Especially since brands specializing in smartphone gaming (Asus, Black Shark, Lenovo, Nubia) have all released smartphones under Snapdragon 888, Some of them are advancing their launch schedule (six months separate the launches of ROG Phone 3 and ROG Phone 5, for example). This then cast doubt on the possible release of an improved version of the SD888.
The Snapdragon 888+ appears at Geekbench
However, it seems that this will be the case. A Qualcomm SoC named "Lahaina" was discovered in Geekbench databases. This is an SoC opting for the same construction as all other Qualcomm high-end SoCs since the Snapdragon 855 : one very powerful core, three powerful cores (but a little less) and four energy efficient cores. The frequency of the hearts only changes for the first: it goes from 2.84 GHz to 3 GHz. This looks a lot like what we imagine to be the SD888 +.
In the configuration tested, the SoC is accompanied by 6 GB of RAM and Android 11. The score obtained by this configuration is 1171 points en single-core and of 3704 points en multi-core. This is 25% better than the Snapdragon 888 in the Find X3 Pro in single-core and 10% more in multi-core. The progression is stronger in single-core because only the Cortex-X1 core is used here, while the multi-core test also integrates the other cores which have not been modified.
So it looks like a Snapdragon 888+ is on the way, although this is unconfirmed. The appearance of the component in Geekbench also seems to confirm that production is approaching. In 2020, Qualcomm introduced its Snapdragon 865+ on July 8. We expect an officialization during the summer, as it had leaked a few weeks ago. And we're curious which manufacturer will adopt it first.
Source : Geekbench