Alienware presents its new gaming PCs: the X15 and X17, equipped with the Cryo-Tech cooling system. The Series-X features 11th generation Intel i7s and i9s and Nvidia RTX 30s.
For its gaming PCs, Alienware seeks a balance between performance and finesse, as evidenced by the Dell Alienware m15 which flirted with ultraportable dimensions. Alienware seems determined to continue the effort with a brand new line, the Alienware X series.
The Alienware X15 and X17 (whose design had already been unveiled) both have extra-thin dimensions, with a thickness between 15.9 and 16.3 mm for the 15-inch, and between 20.9 and 21.4 mm for the 17 inch. This does not prevent them from shipping 11th generation Intel i7 and i9 processors, as well as Nvidia RTX30 graphics cards up to the 3080 mobile.
Great efforts on cooling
With machines this small, Alienware strives to focus on cooling to avoid overheating. This is the whole purpose of Cryo-tech, a set of design choices and features put in place by the brand on which it strongly insists. Among these innovations, we note the use of a new thermal interface material, the "Element 31", created by Dell (which owns Alienware) placed between the hottest points of the PC (CPU / GPU) and their cooling components.
Added to this is the first four-fan design, aided by fan-control technology that allows them to run individually, speeding up, slowing down or even stopping as needed. Five modes of use of the fans are also planned, ranging from a mode prioritizing power to a mode which emphasizes silence.
Black and white design
On the design side, Alienware has opted for models with an outer shell in black or white. Whatever the model, the interior part of the chassis (keyboard and screen) will adopt a matte black color to help concentration. A Cherry MX mechanical keyboard with emphasis on limited sound volume is optional.
Source : Alienware
Source : Alienware
As a screen, the X15 offers either QHD 240 Hz or FHD 360 Hz, both compatible with G-Sync and Advanced Optimus. The X17 for its part, offers an FHD panel in 360 Hz or QHD 120 Hz. Only the FHD screen will be equipped with G-Sync and Advanced Optimus.
Full configurations for both models will be available starting June 15, starting at around $ 2,000 for the X15, and $ 2,100 for the X17, for the less demanding configurations.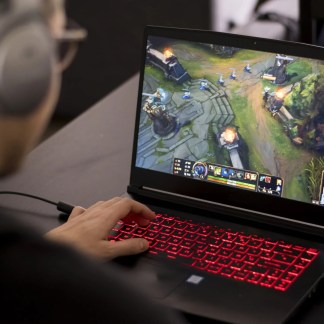 In 2021, to enjoy a gaming PC, it is no longer necessary to deal with a huge computer tower. Laptop gaming PCs are now (almost) as powerful as desktop PCs. From 1000 to …
Read more