The difficulty of going to the current gen 'with regard to consoles is well documented: the articles "the PS5 is available… but for how long? »And other good plans to succeed in nabbing a machine have been multiplying on the internet for almost a year, without the situation stabilizing (even if it is noticeably easier to get a PlayStation 5 or an Xbox Series X today. ). But in the country of Equality (yes, yes, it's written on the pediment of the Town Hall), there is no reason that PC players should not be in the same boat.
And in fact, afford a recent graphics card at a price "recommended by the manufacturer" has all of a test of Koh-Lanta. And again, we know some who would be ready to spend a weekend on the poles against the guarantee of leaving with a 3070 …
This is where Nvidia's cloud computing service comes in! GeForce Now has indeed upgraded its offer, and now offers its subscribers the benefit of the power of a state-of-the-art graphics card. via any screen (or almost) thanks to its offer entitled "RTX 3080" in all transparency.
In addition to the two offers already offered (the free plan, and the so-called "priority" plan at € 10 / month or € 50/6 months), the RTX 3080 formula offers game quality with Ray Tracing, a resolution of 1440p at 120 frames per second (1080p and 60 fps for the "Priority" formula), and eight-hour gaming sessions (against six hours for the cheaper formula). Finally, for Shield TV owners, GeForce Now offers HDR and 4k (well, "up to" 4k, which implies that this is not guaranteed all the time). Nvidia has also worked on latency and promises more comfortable gaming sessions on this side.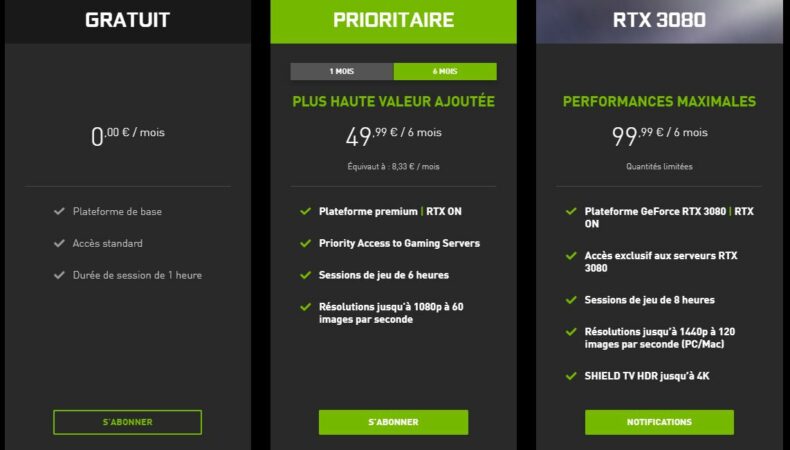 Of course, the upgrade has a cost, and this offer is offered at 100 € for six months, without the possibility of subscribing for a shorter period. This certainly represents a certain cost, but faced with the crazy prices practiced by scalpers on graphics cards, the alternative should be seriously considered for those who wish to take advantage of this generation leap.
We recall how GeForce Now works, which differs a little from what we are used to in terms of cloud offers: Nvidia's service allows you to play games from its Steam library or Epic Games Store via the cloud. That is to say, you must first buy your games in a "classic" way to add them to your GeForce Now library. What we pay with the subscription is the computing power rented by Nvidia. You can play Far Cry 6 with Ray Tracing activated on your old 1.3ghz laptop and 2GB of memory, without even a graphics card, or from a small Chromebook bought for studies, or even your phone!
So that everyone has room, the gaming sessions are limited (hence the eight hours offered by the RTX 3080 formula). Once your session is over, you have to restart one and possibly queue to get a place (which is common with the free version, much less for paying subscribers).
Please note, not all games are compatible with the service, the (growing) list can be viewed on the GeForce Now site.