News tip Hearthstone Mercenaries: which is the best free team?
Published on 10/14/2021 12:33 PM
With its fifty-one playable characters, Hearthstone Mercenaries promises compositions as varied as each other. But despite everything, some heroes are not accessible and take some time to be picked up. Do not panic ! Here's the guide to getting access to one of the best teams from the start.
Summary
Samuro, Xyrella and Cariel in key composition

Is there a better version?

How to equip them?
While the reputation of pay-to-win sticks to Heartstone's skin, you don't have to have to checkout to enjoy the best characters in Mercenaries mode. The proof since one of the best current compositions mobilizes three characters who are guaranteed by the game, during the introductory phase. She is made of Cariel (protective), Xyrella (spell caster) and Blademaster Samuro (fighter). Cariel is offered from the start of the game, Xyrella after the second confrontation of the tutorial and you will have to push on the fourth bounty (Story quest # 3) to get hold of Blademaster Samuro. This team works as well in Player against Environment (PCE, that means the bounties) as in Player against Player (PVP).
In addition to being a very strong composition, Cariel, Xyrella and Samuro allow to respect the trinity of roles.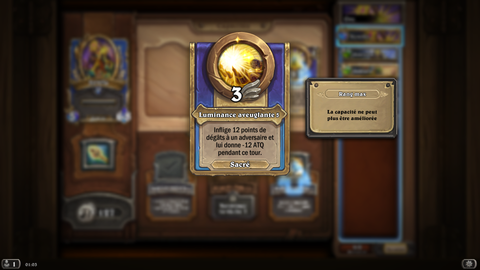 Samuro, Xyrella and Cariel in key composition
This composition is based on two skills: Flashing light of Xyrella et Double strike by Blademaster Samuro. Xyrella's can reduce the attack of the targeted minion and inflict damage on him. These are perfect conditions for Samuro and his technique: by targeting the same creature as Xyrella, he will be able to trigger the effect of Double Strike and make a second attack. This is all the more interesting given that the targeted minion has had his attack reduced and therefore deals less damage to Samuro when the latter hits him.. Behind, Cariel is one of the only heroes who can use Taunt, protecting the chain from unwanted attacks.
Is there a better version?
With any luck and some Legendaries in the collection, three replacements are legitimate for Cariel. They are Thrall, Garrosh, or Lich King. We explain why.
Garrosh, Thrall, and the Lich King are prime replacements for Cariel:
Like Cariel, Garrosh has a power allowing it to benefit from Provocation while gaining VP with each use. Moreover, his technique Mak'gora forces the opponent to attack him back: ideal with Blinding Vision of Xyrella which reduces the opposing attack.
With a little luck (or a lot of gold, your choice), Thrall will be available in your collection. Ultimately, it will be probably the best hero to join this team. His capacity For the Horde gives attack to allied orcs, which synergizes with Samuro.
At last, the lich king is the last to complete the podium. It is a solution of choice with very versatile capabilities: Frost bite slows down opponents (perfect for Samuro's double strike), the Death Veil heals or deals damage while the Frost shield gives provocation.
After a little time and experience acquired, it will also be possible to take advantage of the equipment. They improve a particular ability of the character. As part of this combination between Samuro, Xyrella and Cariel, you have to mount the Burning Blade, the Radiant Wand and the Tome of Light respectively.

Through Charlanmhg, Writing jeuxvideo.com
MPTwitter