Oops, small error on the part of Google which published too early its new Google Nest products on its store.
The news of Google products is definitely very rich this week. The firm has indeed unveiled its future Google Pixel 6 and Pixel 6 Pro which will be released at the end of the year and will mark Google's return to the very high-end flagship market, in particular thanks to the Google Tensor chip. Smartphones aren't the only line of devices developed by Google. The firm also has connected home products in its bag.
The Google Store blunder
One internet user spotted a Google Store update, possibly related to the Pixel 6's announcement, with unannounced Google products. The Verge site was able to take screenshots before Google corrected its mistake and made everything disappear. Too bad, the announcement of the Pixel 6 was a smart way to tackle the early leaks around the phone.
If the links to the products did not work, we can still compile a list of devices that Google has not yet officially unveiled:
Nest Cam with floodlight
Nest Cam (indoor, wired)
Nest Cam (outdoor or indoor, battery)
Nest Doorbell (battery)
We therefore have in particular a camera and a connected doorbell running on battery power, which is particularly practical outdoors. The firm should also offer a more classic and wired camera as well as an outdoor camera with projectors.
No price or characteristic accompanies these products of which we now only know the name and an illustrative image.
While waiting for a real presentation, we can still reasonably think that the design of the products is finished, since they are ready to be added to the store. The announcement should therefore not be long.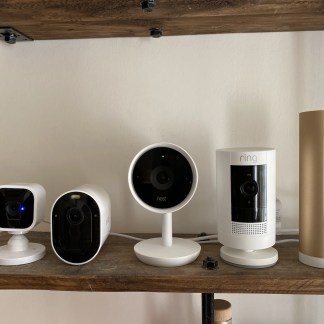 A connected surveillance camera is a good asset to know what is happening at home in his absence. Here are our recommendations.
Read more