Almost five years after serving us their Twin Peaks thriller called Virginia, the English from the Variable State studio set out to create a science-fiction universe. Last Stop, available July 22, 2021 on PC and consoles, is it worth the detour?
New narrative adventure edited by Annapurna Interactive (What Remains of Edith Finch, 12 Minutes), Last Stop follows the atypical journey of three very different heroes with interconnected stories. Strange events are happening in London; Mystical powers, permutation of spirits and a magical portal will disturb the lives of our characters. A narrative journey that turns out to be just as distracting as it is imperfect.
Three plots for fun
Because this is where the title of the game is inspired, Last Stop opens his story in a metro car to present us with a pleasant possibility: Donna, John and Meena are seated next to each other and it's up to us to choose who we want to start the journey with. Thus each character has an assigned chapter and a personal plot. Along with John, we will follow the daily life of a divorced father overworked by stress and debt. His fate will be turned upside down when an artifact targets him and his 25-year-old neighbor whom he secretly envies. We also have Donna, a teenage girl who enjoys hanging out with her friends to escape an overprotective family; Things take a turn for the worse for her and her little gang when they decide to play sleuth to spy on a mysterious stranger with glowing eyes. Finally Meena, cold and ambitious, is a work addict who will have to scramble to get a promotion in place of her new rival, younger and just as reckless. The program promises to be exciting.
This is where the game has its strong point: its intrigues; Gifted at tying them up, Variable State serves us three impeccably maintained sci-fi mysteries at an almost impeccable pace ; How are John and Jack going to be able to find their respective bodies? Who is this alien with dark powers obsessed with Donna? And what then is this so important position that Meena occupies? Each chapter, animated by an interest, is useful for the progression and will occupy you about twenty minutes for a complete lifespan of a little less than ten hours. The format works, the different conclusions manage to keep our interest and the story knows how to stop without wanting to do too much. Also, the formula can be widely appreciated as a television series that we like to consume in small doses, each introduction being accompanied by a pleasant reminder of the facts. Finally if the general atmosphere can take a few minutes to settle, it finally manages to convince, inspiring distant airs of Twilight Zone modern, teenage movie version. However, we regret a tension that sometimes struggles to rise when the writing asks for it. The whole is supported by a soundtrack signed Lyndon Holland which does not disappoint and whose few absences point to a cumbersome silence.
An adventure that is not yours
To bring these three plots to life, the developers have built three unique heroes for us that we take pleasure in discovering one by one.. The most appreciable being that none of them are anchored in old clichés, all of which are enriched with very human characteristics, faults and singularities: John is a middle-aged man who, despite a sympathetic disposition, cannot stand. prevent jealousy of a younger and fiery neighbor; Donna lie to loved ones and avoid dialogue; finally Meena, the most ruthless, struggles to be a good wife and a mother present. The English dub which gives them life is also very pleasant to hear. Note also that the dialogues are translated into French, but that it will sometimes be necessary to deal with some spelling mistakes, nothing too bad. Too bad these characters are tarnished by animations that are sorely lacking in naturalness and facial expressions that are too frozen ; points which are difficult, and which severely hinder the immersion. Added to this is a relatively smooth visual universe and a character design that will not be to everyone's taste. Last Stop is still far from ugly and will be able to offer you its share of pretty plans.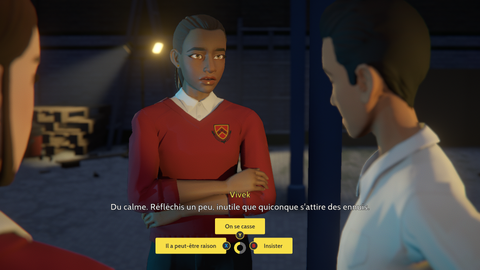 To satisfy a cinematographic staging, the developers chain the still shots and vary the angles. A bias which can be attractive, but which makes travel particularly tedious ; more particularly when the camera, placed several meters from the ground, makes locating our character difficult. And when it moves, the direction to take is far from always intuitive. Another point of frustration: the sets are difficult to explore and always only serve to be passed through wearily while a dialogue is taking place.
Dialogues which, in this regard, are supposed to let themselves be shaped by a multiple choice system; However, the propositions are sometimes difficult to read, lead to approximate results and will hardly ever change the course of the story. A limited participation which turns out to be rather frustrating in certain situations which nevertheless seem ideal to intervene. The game will try from time to time to redouble interactivity by offering here and there a few phases of QTE, bottle throws, or a mini-game of rhythm without much challenge; a handful of activities that are largely dispensable. Overall, it will be necessary to know how to be satisfied with an adventure certainly attractive but damn linear.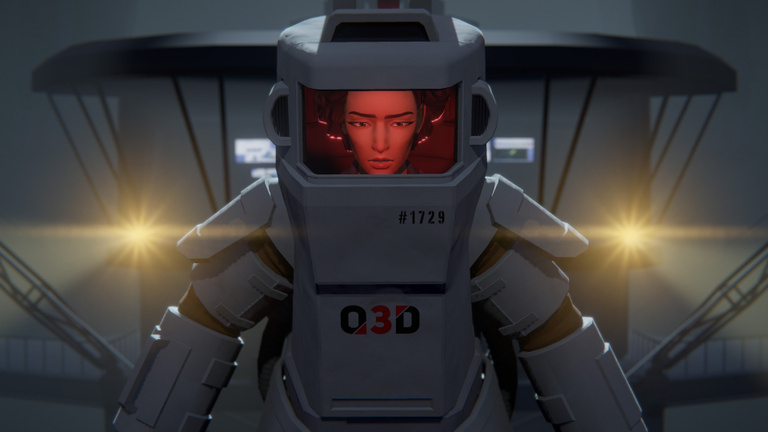 Points forts
Three well-crafted intrigues to discover in a free order
A very good rhythm for a story that never bores
A well-mastered soundtrack
Nicely dubbed in English and translated into French
Weak points
Questionable animations
An annoying camera when traveling
Dialogue choices without impact
Dialogue choices that lack legibility
An adventure that lacks overall freedom
Last Stop gave us an overall pleasant experience by concocting three distinct plots with fair flavors. Precise rhythm, convincing characters, story that keeps us in suspense: there is no doubt that the Variable State studio masters its pen. What a pity that the player's freedom is so compartmentalized by its lack of impact on events and that the technical quality tarnishes the experience. The adventure will however prove to be appreciable for fervent fans of narrative games who are just waiting to discover an entertaining story.
—
What readers say

Give your opinion on the game!