Nvidia renewed its multimedia boxes in 2019 and, today, they are still the best to enjoy an optimal Android TV experience on your TV. If you want to test, the classic Shield TV has just gone from 159 to 139 euros on Amazon.
The Nvidia Shield TV differs from the Pro model by being much more compact thanks to its rather atypical cylindrical design that goes unnoticed when placed behind the TV. The user experience remains essentially the same between the two, but for even less with the classic version thanks to this reduction of 20 euros.
What is the Nvidia Shield TV?
A multimedia box with Android TV
Compatible 4K, HDR, Dolby Vision et même Dolby Atmos
But it is also an ideal platform for playing via the Play Store, or cloud gaming.
Instead of 159 euros at its launch, the 2019 Nvidia Shield TV is now available on sale at 139 euros on Amazon. The box is obviously delivered with its remote control.
A compact design that goes straight to the point
9 /10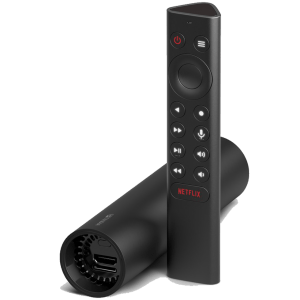 The 2019 Nvidia Shield TV offers a rather atypical design with its cylindrical shape. In this small format, the connection is rather thin, but offers the essentials with an HDMI, Ethernet and microSD port. The USB port is absent, but be aware that it is still possible to connect a wireless controller thanks to the Bluetooth 5 compatibility, for example.
Like a living room console
To play, it is an ideal platform. First of all, its Tegra X1 + chip supported by 2 GB of RAM is presented as 25% more powerful compared to the configuration of the old model for an even more pleasant experience. This then allows you to play all the games in the Play Store in good graphics conditions. And if you want to take the experience even further, to make it a real home console, you can take advantage of the GeForce Now cloud gaming service – especially since Nvidia's case is optimized for.
Android TV in all its glory
The Nvidia Shield TV (2019) obviously runs under the latest version of Android TV and is therefore compatible with Google Assistant, but also Amazon Alexa. Siri is unfortunately missing. You will have access to all your favorite streaming applications, in the best conditions thanks to the many embedded standards for sound and video. Already, the definition goes up to 4K for compatible televisions, while benefiting from Dolby Vision and Dolby Atmos certifications.
To find out even more, do not hesitate to read our full review of the Nvidia Shield TV (2019).
---
If, subsequently, the offer mentioned in this article is no longer available, please take a look at the table below to find other offers concerning the Nvidia Shield TV (2019).
2021 summer sales: all you need to know
From June 30, 2021, Frandroid is covering sales to help you identify the best Tech deals for the event. Each merchant will offer new offers every Wednesday for the various markdowns of the 2021 Sales until the end, July 27, 2021.
You will also find guides by merchant such as Amazon, Boulanger, Cdiscount or Fnac and Darty, but also selections by theme with in particular our selection of Smartphones, the best laptops or even TV destocking from the 2021 Summer Sales.
You can also follow the event on our social networks via our Twitter account @FrandroidPromos or our Frandroid Bons Plans Facebook page. Last option: our special 2021 Sales page.