>> United States: Annual number of HIV infections drops sharply
>> AIDS: progress compromised by the COVID-19 epidemic
>> White Americans privileged in preventive HIV treatment
Deaths due to AIDS have fallen by 43% worldwide since 2010 to reach 690,000 in 2020, according to the specialized agency of the UN.
Photo: AFP / VNA / CVN
Thanks in large part to the democratization of antiretroviral therapy, AIDS deaths have fallen by 43% since 2010 to reach 690,000 in 2020, according to a report by UNAIDS, the UN specialized agency. Progress has also been made in reducing new infections, but it has been slower. They have fallen by 30% in ten years, with 1.5 million people newly infected with the virus in 2020.
"We must do more ", UNAIDS Executive Director Winnie Byanyima said at a press conference, saying she expected an increase in cases due to the COVID-19 pandemic which is disrupting access to health services. So far, at least 40 countries are on track to achieve a 90% reduction in AIDS-related mortality by the year 2030, including nine countries located in East and South Africa.
The report does not give statistics by country, but shows that AIDS-related deaths have declined worldwide since 2010, except in Eastern Europe and Central Asia where infections have also jumped over the same period. They also rose slightly in the Middle East / North Africa and Latin America. In 2016, targets were set by the UN General Assembly for 2020 with the goal of eradicating AIDS by 2030.
Five years later, dozens of countries with diverse epidemiological and economic characteristics have met or exceeded several of these goals, showing that"It is possible to bring a pandemic that seemed almost out of control 20 years ago to under control", explains UNAIDS.
"Cautiously optimistic"
Ending AIDS by 2030 is possible if governments reduce "the inequalities that prevent people from accessing health services", in prevention and treatment, explained Mr.me After all, his disant "cautiously optimistic".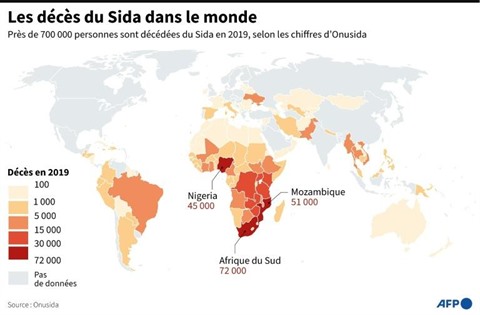 Number of AIDS deaths worldwide in 2019, according to UNAIDS data.
Photo: AFP / VNA / CVN
In 2020, some 690,000 deaths from AIDS-related causes were recorded, a decrease of 55% from 2001 to 2020, notes the report, released on the eve of the fifth high-level session on AIDS that the General Assembly will be held on June 8–10. The report shows that "Countries with progressive laws and policies and strong, inclusive health systems have performed best against HIV."
In these countries, people living with HIV have a better chance of accessing effective HIV services, including testing, access to preventive medical treatment and quality care, and delivery of treatment for several months. "High performing countries have paved the way for others", underlined Mme Byanyima.
"Their adequate funding, genuine community involvement, multisectoral and rights-based approaches, as well as the use of scientific data to guide targeted strategies have turned the direction of the epidemic and saved lives. ", she added. Of the 37.6 million people living with HIV worldwide in 2020, UNAIDS estimates that 27.4 million were on treatment – a figure that has more than tripled since 2010, but is below 2020 target of 30 million.
The agency recently set new targets for 2025. By achieving them, HIV services will be provided to 95% of those in need, annual infections will be reduced to less than 370,000 and deaths to less than 250,000. .
AFP / VNA / CVN