Jostled by the cloud, open source is looking for new models. And France is no longer quite at the forefront. The new Will Strategy report draws a contrasting and sometimes a little worrying state of affairs …
« The open source sector is at the heart of major issues in terms of economics, sovereignty, security and ethics "Recalls in the introduction the new" survey on the state of play and the open source sector in France 2020-2021 ".
The study reveals some very French paradoxes:
On the one hand, only 29.3% of respondents believe that France is implementing an open source industrial strategy in the face of Big Techs and, for 64.6% of them, administrations do not sufficiently encourage free software. as provided by law.
On the other hand, 80% of companies are already committed to a free and responsible ethical approach.
The study recalls the figures put forward by the European Union: the economic impact of free software estimated between 65 and 95 billion euros. It would represent a potential increase in GDP of
100 billion euros, and the creation of 1000 digital companies per year, if contributions to open source code increased by 10%.
France is now only 3rd in Europe, behind Germany and the United Kingdom in terms of commits and number of GitHub contributors.
Profile of a free company
The study also draws a portrait of "free companies": they are mainly micro-enterprises (59%) and SMEs (35.1%). Most are generalists (78.9% are not dependent on a particular sector of activity) even if they may have expertise in specific areas. 57.1% of these companies are software publishers, and 51.1% now offer their solution in SaaS mode. Two-thirds of these companies are also exporters (especially to Europe) and, in general, free companies achieve 20.5% of their turnover outside France. The sector remains a strong job creator.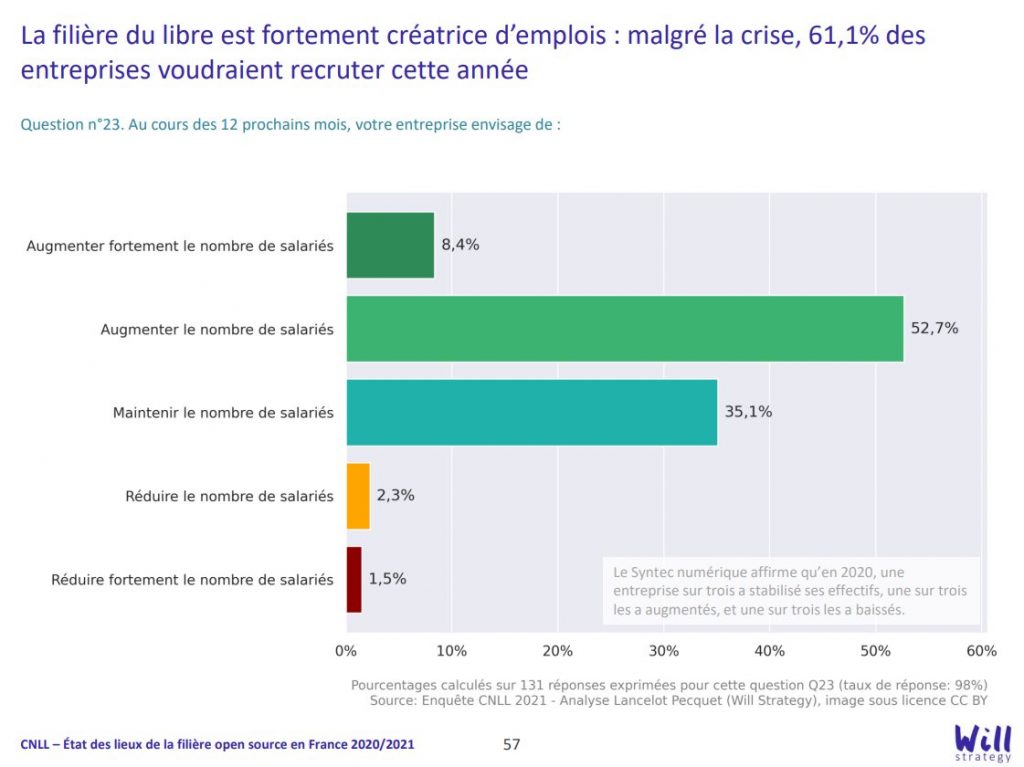 In passing, it should be noted that free companies have withstood the pandemic crisis rather well, like all digital companies. " Their activity remained stable or increased for a little less than 2/3 of the free companies while it declined for the remaining third, in a context of strong instability of customer calendars. »Recall the authors of the study. Despite the crisis, the state of mind of the leaders appears positive and 56.5% of them say they are confident and 41.2% optimistic.
The study also notes a transition in economic models for solutions, with growth in usage-based invoicing, the sale of licenses and subscriptions, the sale of additional functionalities (freemium, "business" functionalities, open core, etc. ).
No sovereignty without freedom?
Finally, and not surprisingly, many free players advocate digital sovereignty and believe they can play a key role in it. 93.1% of industry leaders believe that digital sovereignty should be a priority for the economic and democratic future of France and Europe. 88,3% of respondents believe that the key principles of open source can help preserve the digital sovereignty of France and Europe.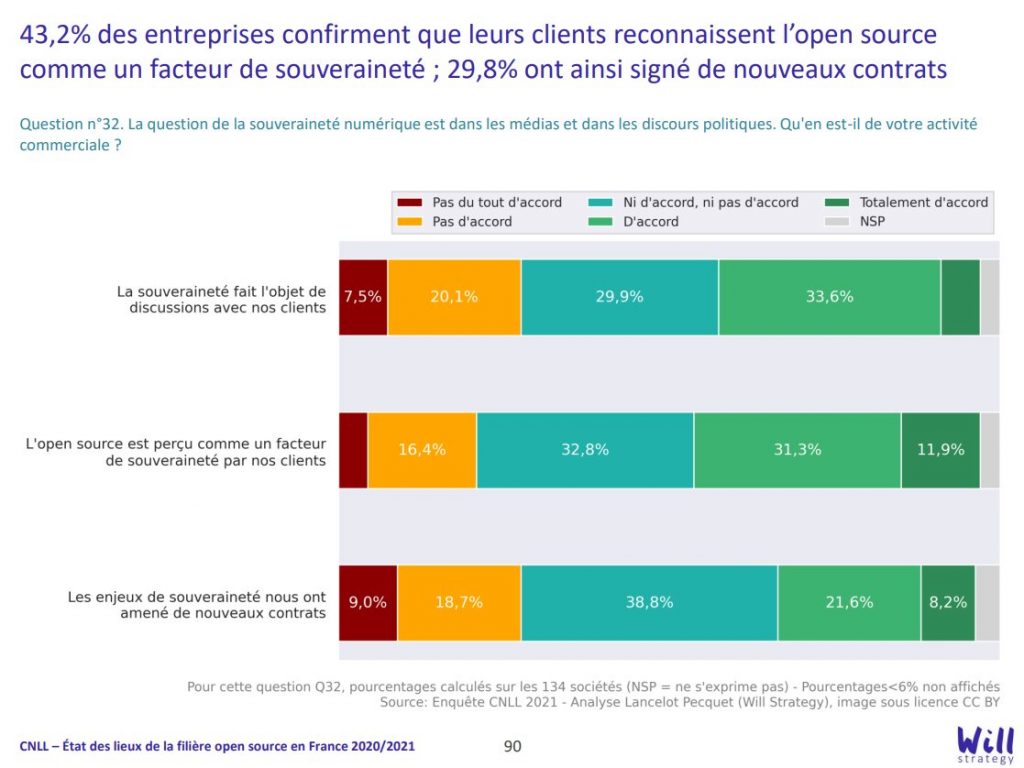 And of course, many rely on public markets (necessarily more sensitive on this subject), 64.6% of the leaders of the sector regretting that the administrations do not encourage more free software and open formats. Nothing new or surprising about this.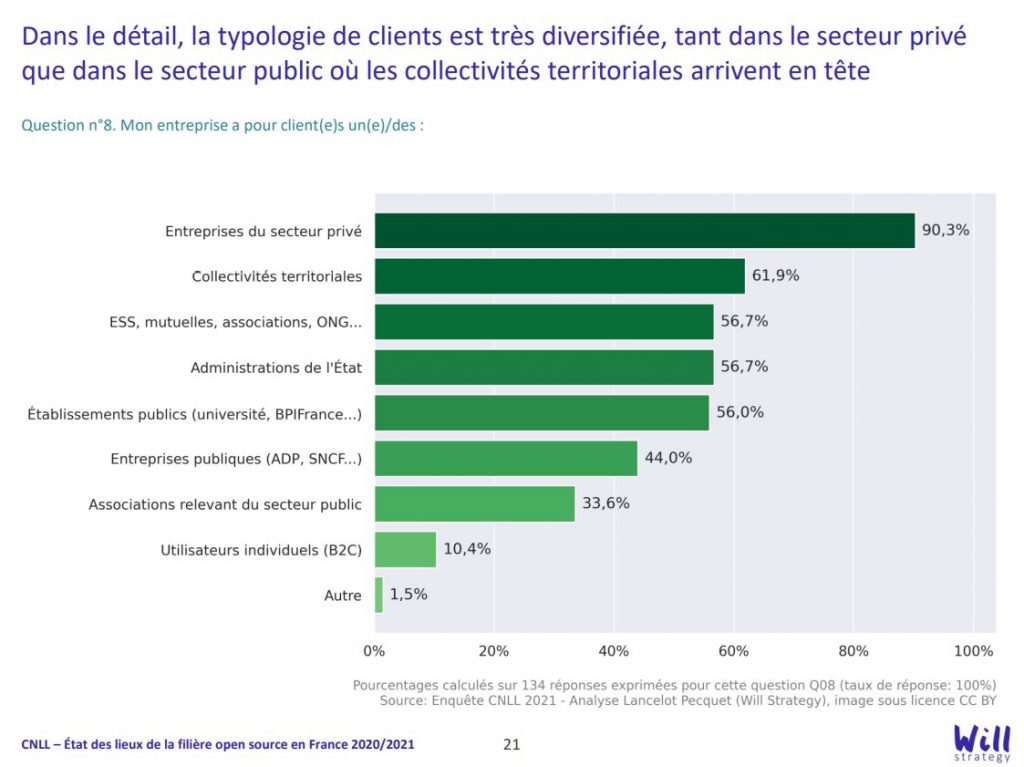 The study also falls into the pitfalls of an intensive and even partisan evangelization taking up a few clichés long repeated by Cigref: " Big Techs saturate the information space of public and private decision-makers, making other players, especially companies in the French open source sector, less audible. market leader ", by participating in their loss of control over information systems, in particular with the development of the cloud … ».
As a reader we would have done well, but the authors could not resist it. Fortunately, the rest of this evangelization is more interesting since the study goes back at length to open source ethics, to good practices for switching to free software, to the place of women in communities and the need to give them more space.
What in the end offer a fairly complete state of the open source ecosystem if not surprising.
---
To find out more: CNLL Results of the survey on the state of play of the open source sector in France 2020/2021