More than 300 nephrologists, endocrinologists, internists, diabetologists and cardiologists from the Middle East and Africa gathered at the two-day conference hosted by Boehringer Ingelheim.
The interconnected nature of the cardio, renal and metabolic systems requires a multidisciplinary approach to manage and treat patients with type 2 diabetes as an underlying risk factor.
Cardio-renal-metabolic disorders ("CRM") are the leading cause of death worldwide, accounting for up to 20 million deaths per year.
Tunisie Tribune (type 2) –Middle Eastern and African healthcare elite stressed the need for specialists to take a multidisciplinary approach to managing type 2 diabetes at the "Regional Interchange on Diabetes 2021" (RID) conference (Regional exchange on diabetes 2021, in French). Organized by Boehringer Ingelheim, one of the world's largest pharmaceutical groups, the event was held on October 15-16 at the Hilton Dubai hotel in Al Habtoor City, United Arab Emirates. Over 300 specialists gathered to discuss the latest solutions and guidelines for managing type 2 diabetes and the challenges that link it to cardio-renal-metabolic disease.
People with type 2 diabetes suffer from a number of co-morbidities and risk factors, including heart failure, kidney disease, hypertension and obesity. The interconnected nature of the cardiovascular, renal and metabolic systems means that they often share the same risk factors and pathways throughout disease. Balancing these systems carefully is essential for treatment, as the dysfunction of one can contribute to the dysfunction of the others, causing the disease to worsen.
Cardio-renal-metabolic disorders affect more than a billion people worldwide and are responsible for up to 20 million deaths each year, making it the leading cause of death worldwide.
Mohammed Al-Tawil, Regional Director General and Head of Human Pharmacy at Boehringer Ingelheim Middle East, Turkey and Africa, said: "The prevalence of diabetes in the Middle East and North Africa region has 55 million adults and is expected to double by 2045. At Boehringer Ingelheim, we are committed to improving the health and quality of life of patients with this widespread disease and the conditions associated with it. Drawing on our rich history of leadership, extensive research programs, and strong collaboration with the international medical community, we continue to develop solutions that deliver integrated, multi-organ benefits for patients with type 2 diabetes. The Regional Diabetes Exchange is one of many forums we host that brings together international and regional experts to discuss the latest developments and medical expertise with the aim of improving clinical practice and transforming positively. the lives of our patients".
The conference was led by international speakers: Dr. José R. González-Juanatey, director of the cardiology department at the University Hospital of Santiago de Compostela in Spain; Dr. Marc Lyndon Evans, diabetes consultant in the UK; and Professor Merlin Thomas, Principal Investigator at the National Health and Medical Research Council, Professor and Program Leader in the Diabetes Department at Monash University in Australia.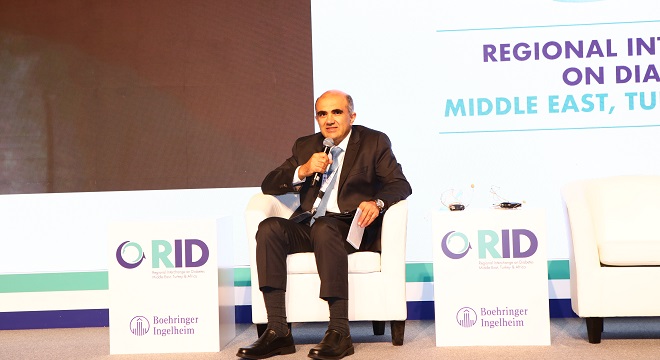 The sessions were moderated by eminent specialists from the region: Prof. Yehia Ghanim, Head of Internal Medicine, Diabetes and Metabolism at the University of Alexandria in Egypt; Professor Hani Sabbour, Consultant Cardiologist in the United Arab Emirates, and Professor Ali Abu Alfa, Attending Physician, Professor of Medicine and Head of the Division of Nephrology and Hypertension at the American University of Beirut, Lebanon.
Professor Yehia Ghanim said : "People with diabetes are at major risk of developing complications with the cardio, kidney and metabolic systems. Type 2 diabetes, in particular, requires an early, comprehensive approach that not only addresses high blood sugar and short-term cardiovascular risk factors, but also reduces the overall risk of disease progression and cardiovascular and kidney complications. long-term associated. An important way to achieve this, in addition to diet and exercise, is to coordinate the treatment of related co-morbidities, including the use of emerging drugs with broad cardio-renal and metabolic effects. Events such as this conference are important in keeping us abreast of these latest solutions that are helping to improve the efficiency and quality of care in the region.".
Professor Hani Sabbour said : "The Middle East has seen a growth in type 2 diabetes. Patients are at a greater risk of developing cardiovascular disease, which is also the leading cause of death worldwide. A positive and important development in the treatment of type 2 diabetes is the orientation towards the prioritization of cardioprotection. It is essential to consider the use of cardioprotective agents in type 2 diabetes early on, to help reduce the risk of cardiovascular complications. Knowledge sharing platforms like the Regional Diabetes Exchange help shed light on these latest medical solutions for the management of type 2 diabetes, particularly in the prevention of cardiovascular complications ".
Professor Ali Abu Alfa said: "The complications and risk factors of type 2 diabetes, as well as other associated risk factors such as high blood pressure, are serious and can affect multiple organs such as the heart and kidneys. For example, 37% of adults with diabetes have been diagnosed with chronic kidney disease, while about three-quarters of end-stage kidney disease cases can be attributed to diabetes or hypertension. Access to the latest information and guidelines on how to best manage type 2 diabetes patients with heart or kidney complications is vital for the medical community. Initiatives like the RID conference make this possible".
The Regional Diabetes Exchange 2021 has been accredited by the British Academy for Continuous Medical Education (BACME) and the American Association of Continuing Medical Education (ACCME). In addition to the forum, Boehringer Ingelheim hosts virtual and interactive continuing medical education sessions throughout the year that focus on sharing ideas and best practices on managing type 2 diabetes in the region.
About Boehringer Ingelheim
Boehringer Ingelheim is working on breakthrough therapies that improve the lives of humans and animals. A research-driven biopharmaceutical company, it creates value through innovation in areas where unmet medical needs are significant. A family business founded in 1885, Boehringer Ingelheim takes a long-term perspective. Approximately 52,000 employees operate in more than 130 markets in the three business areas: human pharmacy, animal health and contract manufacturing of biopharmaceuticals.
Find out more at www.boehringer-ingelheim.com.
About type 2 diabetes
Type 2 diabetes is a common chronic disease that causes blood sugar levels (glucose levels) to rise, which, among other symptoms, causes fatigue and excessive thirst, as well as a potential risk to adversely affect eyes, kidneys and heart.
About Cardio-Renal-Metabolic Conditions
The cardiovascular, renal, and metabolic systems are interconnected and share a number of risk factors and disease pathways across the disease continuum. Dysfunction of one can contribute to the dysfunction of the others, leading to the progression of interconnected diseases such as type 2 diabetes, cardiovascular disease, heart failure and kidney disease, which in turn leads to an increased risk of cardiovascular death. Conversely, improvements to one system can have positive effects on others.
With our research and treatments, our goal is to support the health of patients, restoring the balance between the interconnected cardio-renal-metabolic systems and reducing their risk of serious complications. As part of our commitment to those whose health is threatened by cardio-renal-metabolic disorders, we will continue to take a multidisciplinary approach to care and focus our resources on filling gaps in treatment.