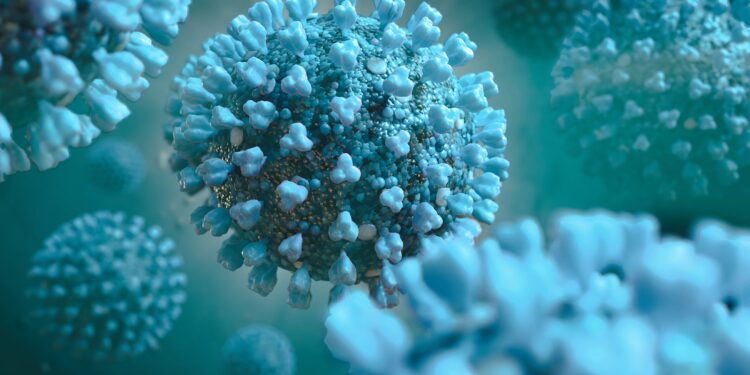 Corona: Potential therapeutic target for Long COVID
Millions of people have now survived an infection with the SARS-CoV-2 coronavirus and the COVID-19 disease caused by the pathogen. But many of them still suffer from long-term health effects weeks and months after the illness. These are known as "Long COVID". Researchers have now discovered a potential therapeutic target for this.
As the pandemic continues, it becomes increasingly clear that an infection with the SARS-CoV-2 coronavirus can have long-term health consequences such as constant exhaustion, shortness of breath, concentration disorders ("brain fog") or dizziness, even with a mild course of the disease or unnoticed infection the Federal Ministry of Health on the portal "Together against Corona". Now there are new insights into the treatment of the long-term consequences of a corona infection.
Effect of the coronavirus on the vascular system of the brain
According to a recent communication from the University of Lübeck, a research group at the university has conducted a study to investigate how COVID-19 affects endothelial cells in the brain.
Together with other scientists from France, Spain and Germany, they found out that SARS-CoV-2 leads to vascular destruction in the brain, which is mediated by breaking down a protein called NEMO and can be prevented by a specific pharmacological intervention.
These new insights into the effects of the coronavirus on the vasculature of the brain offer a potential therapeutic target for Long COVID.
Breakdown of protein leads to the death of blood vessels
The study published in the journal "Nature Neuroscience" under the direction of Markus Schwaninger, Institute for Experimental and Clinical Pharmacology and Toxicology at the University of Lübeck, shows that endothelial cells in the brain can be infected with SARS-CoV-2, and that such an infection leads to cell death.
As explained in the communication, endothelial cells form the inner layer of all blood vessels in the body, and the endothelial cells of the brain have special properties to form a tight interface between blood and tissue, the so-called blood-brain barrier.
In the event of cell death, only the outer covering of the vessels remains, but blood can no longer flow through it.
The researchers discovered the consequences in brain samples from deceased COVID-19 patients and in cell and animal models of a SARS-CoV-2 infection.
Through these models and the use of sophisticated techniques such as single-cell RNA sequencing, mass spectrometry and super-resolution microscopy, the experts found that the SARS-CoV-2 main protease Mpro cleaves a protein in humans called NEMO.
This protein is necessary for the survival of brain endothelial cells; its splitting leads to the destruction of blood vessels through so-called necroptosis.
Novel strategy for overcoming neurological consequences
The researchers were able to show that blocking the necroptosis improves blood flow to the brain of mice.
In this way, according to the authors, long COVID symptoms such as the so-called fatigue syndrome or cognitive impairments, which even affect children and those affected with initially mild symptoms, could be treated.
This groundbreaking study provides the first evidence of a direct effect of SARS-CoV-2 on the vessels of the brain and offers a novel strategy for overcoming the neurological consequences of COVID-19. (ad)
Author and source information
Fade in now
This text complies with the requirements of specialist medical literature, medical guidelines and current studies and has been checked by medical professionals.
Sources:
University of Lübeck: Long COVID: Potential therapeutic target discovered, (accessed: October 23, 2021), University of Lübeck
Jan Wenzel, Josephine Lampe, Helge Müller-Fielitz, Raphael Schuster, Marietta Zille, Kristin Müller, Markus Krohn, Jakob Körbelin, Linlin Zhang, Ümit Özorhan, Vanessa Neve, Julian UG Wagner, Denisa Bojkova, Mariana Shumliakivska, Yun Jiang, Anke Fähnrich , Fabian Ott, Valentin Sencio, Cyril Robil, Susanne Pfefferle, Florent Sauve, Caio Fernando Ferreira Coêlho, Jonas Franz, Frauke Spiecker, Beate Lembrich, Sonja Binder, Nina Feller, Peter König, Hauke ​​Busch, Ludovic Collin, Roberto Villaseñor, Olaf Jöhren , Hermann C. Altmeppen, Manolis Pasparakis, Stefanie Dimmeler, Jindrich Cinatl, Klaus Püschel, Matija Zelic, Dimitry Ofengeim, Christine Stadelmann, François Trottein, Ruben Nogueiras, Rolf Hilgenfeld, Markus Glatzel, Vincent Prevot & Markus Schwaninger: The SARS-CoV- 2 main protease Mpro causes microvascular brain pathology by cleaving NEMO in brain endothelial cells; in: Nature Neuroscience, (published: October 21, 2021), Nature Neuroscience
Federal Ministry of Health: Long-COVID and Post-COVID – Long-term consequences of a COVID-19 disease, (accessed: October 23, 2021), Together against Corona
Important NOTE:
This article is for general guidance only and is not intended to be used for self-diagnosis or self-treatment. He can not substitute a visit at the doctor.